Prenatal Yoga
Yoga for pregnancy is a preparation for childbirth for both mum and baby – a great headstart into the world for baby!
---
** Our Prenatal yoga Classes are currently on hold.  No timetable is currently available for prenatal yoga at this time. ***
Prenatal Yoga incorporates safe, simple exercises, breathing exercises, relaxation, meditation and visualisation. You will develop strength and flexibility as you expand your awareness and communication between yourself and your baby. Prenatal yoga helps you to relax and enjoy this special time.
Surround yourself with other pregnant mothers to support a positive view of birth and motherhood. Prenatal yoga exercises bring postural awareness to your changing pregnant body to improve posture & strength. Prenatal yoga helps manage back pain, creates balance in mind and body, works the muscles that support your core and pelvic floor, lengthens the spine and opens the shoulders. Prenatal yoga encourages optimal foetal positioning in preparation for child birth, whichever your birthing option. Prenatal yoga brings awareness to your changing body for pregnancy, birth and beyond. Learn to reduce fear and tension. Happy mum, happy baby ! A great lead-up and skill base for motherhood.
Duration 1 hour.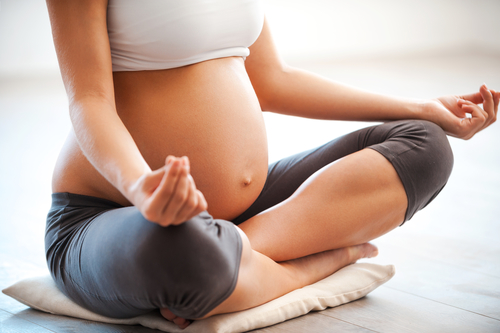 I was induced and labour lasted for 8 hours total, I used your breathing the whole way through and am proud to say I completed my labour drug free ! Chubby Parker was pushed out in less than 10 minutes. Thank-you for giving me the tools to make all the midwives think I was in a deep meditation most of my labour. We're so happy.
The delivery went smoothly. As the contractions gradually progressed, your breathing techniques and poses got me through them. I kept thinking of your glitter jar. Thank-you for being a part of our journey. We can not recommend your services enough. This class is a must for all pregnant mummas.
Thank-you so much for the wonderful yoga classes. I used a lot of what we practiced during labour, particularly rocking and breathing. I always looked forward to Wednesday evenings and came away feeling the best I would all week. Chasing a toddler didn't leave much time for thinking a lot about this pregnancy so having that connection each week was lovely. I was amazed by how well you knew each of us, remembering our various aches, pains and conditions and then so easily adapted the class to suit each and every one of us. You're very special!
Everyone commented how calm I was during the caesarean
I just wanted to say thank you!! I have absolutely loved coming to yoga class the last few months. I'm sad that this period is now over. I really enjoyed my pregnancy. It's such a special time. You have created a beautiful space for pregnant women. Thank you and also thank you as a midwife. It's always so affirming when you find someone who is empowering women to work with their bodies. It's rare in our culture.
Casual Rate : $18
10 visit yoga pass $150   ( Valid for 18 Months )
10 visit yoga pass & Mindful pregnancy CD $165.  Can purchase 10 visit yoga pass and Mindful pregnancy CD via our yoga shop
We also offer a Pregnancy Yoga Program. Available on our Yoga Shop $30. Safe, nurturing easy to follow exercises for pregnancy and childbirth. Use it as your own home practice or the perfect tool to work in conjunction with our prenatal yoga classes.
Our online Yoga Shop
Forms of Payment below :
1/ direct deposit
Bank name : Westpac
BSB: 032059
Account number: 233745
Account name:Yoga with Dana
Please write your name as the payment reference
2/ Tap and Go for Debit Cards and Credit Card : Accepts Visa, Mastercard and American Express. Also accepts chip cards and Mobile wallets. This is available at each class.
3/ Cash at each class.
All our forms of payment can be seen under Prices
YOGA MATS AND EQUIPMENT : We supply all yoga equipment you are most welcome to use at each yoga practice including mats, bolsters, blankets and pillows. If you already own a yoga mat please feel free to bring it along and place on top of the studio yoga mat.
---
Purchase & Invest in your own Pregnancy Yoga Home Practice Program
Enhance your pregnancy by downloading our pregnancy specific prenatal yoga program to help you through your pregnancy and birth. Nurture yourself during this special time.
---
CANCELLATION POLICY GYMEA BAY for General yoga class and Prenatal yoga classes
We are very lucky to have our beautiful room with small groups. Please allow 24 hours notice to cancel a class to consider other yogi's that may like your spot. Classes cancelled inside 24 hours of a class starting forfeit a class off your 10 visit yoga pass. Therefore the class is paid for.